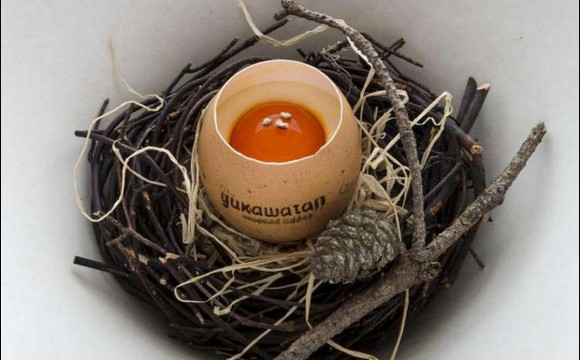 Bird eggs have been valuable foodstuffs since prehistory, in both hunting societies and more recent cultures where birds were domesticated. The chicken was probably domesticated for its eggs from jungle fowl native to tropical and subtropical Southeast Asia and India before 7500 BCE. Chickens were brought to Sumer and Egypt by 1500 BCE, and arrived in Greece around 800 BCE, where the quail had been the primary source of eggs. In Thebes, Egypt, the tomb of Haremhab, built about 1420 BCE, shows a depiction of a man carrying bowls of ostrich eggs and other large eggs, presumably those of the pelican, as offerings. In ancient Rome, eggs were preserved using a number of methods, and meals often started with an egg course. The Romans crushed the shells in their plates to prevent evil spirits from hiding there. In the Middle Ages, eggs were forbidden during Lent because of their richness. The word mayonnaise possibly was derived from moyeu, the medieval French word for the yolk, meaning center or hub.
.
Here's a new thematic album to give you inspiration for your next presentation plates with this theme :
You will find in this thematic album, a compilation of the best presentations that we could find on the subject.
You can see all the pictures on this theme in the corresponding album :
If you wish to publish a photo to add to this topic, do not hesitate to send it to us using our   > Formulaire de Contact


.