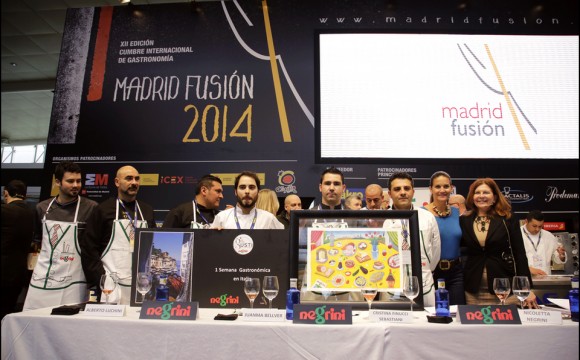 During January 27th through January 29th, 2014, Madrid had once again become, the annual focal point of more than 100 international and national Chefs, culinary demonstrations, gastronomic  exhibitions, epicurean tastings, newly developed food  products and kitchen technology, hands on workshops, and enabling the  interaction with Chefs from all four corners of the globe.  This event was once again, held in the extraordinaire Palacio de Congresos.
Madrid Fusion, a gastronomic international summit had already been held 12 times, prior to the 13th edition, which has established the recognition for this cosmopolitan annual grand event.  Some of the masters of the culinary arts included:  Chef Joan Roca, French Chef Michel Bras, Flanders  Chef Gert De Mangeleer, winner of the European title, The Best 3 Michelin Star Chef of The European Union;  Chef Pedro Subijana, Chef Andoni Luis Aduritz, Chef Elena Arzak,  Chef Juan Mari Arzak, Chef Quique Dacosta, Chef Francis Paniego, Chef Ruben Cabrera, Chef Martin Berasategui, Chef Mario Sandoval, Chef Paco Roncero, Chef Ricardo Sanz  and the El Bulli Foundation to name a few of the participants.
You must complete or comment below on this page if you have any relevant additional information...
If you wish to publish a photo, do not hesitate to send using our   > Contact Form

.