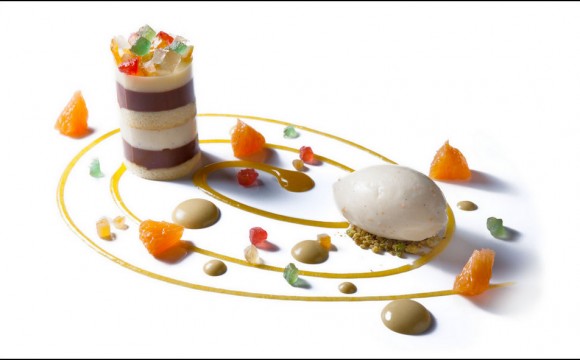 Acquerello's co-owner and Executive Chef, Suzette Gresham, has led an incredibly accomplished career, receiving countless awards and accolades. Her achievements, however, have never deterred her from the ultimate goal as a chef—to make her guests happy.
As a proprietor of the prestigious Acquerello restaurant in San Francisco, California, Gresham strives to continually perfect her life's work and pass on her culinary philosophy to others. "I am a purist at heart. I adore food and nothing brings me greater joy than sharing my passion for Italian cuisine," she notes. "Very simply, I pour my heart and soul into the dishes I create and enjoy relaying my love for food to other people."
Originally from San Carlos, California, Gresham's interest in food and cooking came from a long line of culinary history and heritage within her family. Starting at a young age, Gresham worked alongside her French grandmother in the garden and learned the principles of growing her own fruits and vegetables, as well as techniques in canning and preserving fresh produce. Suzette's mother took pleasure in cooking for large groups of family and friends, furthering her passion for entertaining and pleasing people with an "Old World" style of cuisine and hospitality.
Gresham's enthusiasm in the kitchen and tenacious personality led to the opening of Acquerello with business partner Giancarlo Paterlini in July 1989. Since that time Gresham has gone on to earn a Michelin Star every year since 2007. Today, Gresham is known as a pioneer in the culinary industry and has become one of the most influential chefs in the world of Italian fine dining. Her understated yet elegant approach to traditional Italian dishes showcases her culinary philosophy; that simplicity and preserving the integrity of food speaks volumes. "I strive to ensure the food itself at Acquerello is always center stage" Gresham says. "Humility is of the utmost importance to me but I do create cuisine that I am proud and is distinctively my own."
Gresham is always looking forward, searching for new challenges to embrace. Her motto of constant growth and evolution for Acquerello has placed her as an orchestrator in the kitchen. She dedicates herself to passing on her knowledge and a skills to aspiring chef's, hoping to assist them in achieving their dreams. "I strive to be a teacher and pass everything I have learned on to my kitchen staff," Gresham notes. "If you love your craft, it is your duty to share your knowledge with the next generation. I relate to other chefs young and old because we all share a common—thread an honest love of cooking."
Today Gresham enjoys pushing culinary boundaries and continues to perfect her cuisine in the kitchen at Acquerello. She loves being a mother of two wonderful daughters and continues to spend time in her garden, harvesting crops and tending to her resident chickens.
.
Here's a new Chief who joined us to show us some of his most significant and most creative achievements.
Welcome to :
You will find in his album, a compilation of his best pictures.
You can see his pictures and all pictures present on Visions Gourmandes Chefs in the corresponding albums :
If you want to add a picture to appear on this Chef, do not hesitate to send it to us using our   > Contact Form

.